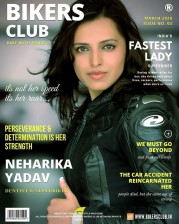 Bikers Club
Online Magazine
Established: 2019
Last updated: March 31, 2020
Categories
Nonfiction
Articles
Biker Lifestyle
Motorbikes
Motorcycling
Motorsports
Travel
Interviews
Motorbikes
Motorcycling
Motorsports
Reviews
Motorbikes
Description
Monthly digitally issued magazine dedicated to the bikers and the traveller worldwide. It includes interview, reviews of bikes and destinations, lifestyles, shout out, current affairs and travel stories.
Extents
Articles
Up to 12,000 words
Approaches
How to approach
Email
What to send
Full text
Online
Editor
Location
7B Tejal Bhuvan, N.P.Thakkar Road
Vile Parle
Mumbai 400057
India
User feedback
There is not yet any feedback for Bikers Club.
If you have had any contact with Bikers Club (or have any in future), remember to leave feedback – whether positive, negative, or neutral – to help other users.
Add
Note
Show
Notes
Hide
Notes
List
Notes
Notes