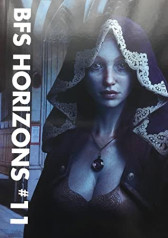 BFS Horizons
Magazine
Last updated: June 21, 2023
Categories
Fiction
Short Fiction
Fantasy
Horror
Science Fiction
Sword and Sorcery
Poetry
Any Poetic Form
Fantasy
Horror
Science Fiction
Sword and Sorcery
Description
Biannual fantasy journal of fiction and poetry, published in print and ebook formats. Features a mix of work from new and established writers. Mainly looking for stories of up to 5000 words, but will consider more. Authors don't have to be British, but prefers if stories have a thread linking it to these isles. Definition of 'fantasy' is broad, encapsulating weird fiction, swords and sorcery, science fiction and all varieties of horror. Accepts poetry in any form, up to 36 lines. Not keen on seeing rhyming poetry in iambic pentameter, but would be interested in sonnets, Villanelles, Rondeaus, or other forms. Lengthy poems or sagas will be considered, but should be submitted according to the guidelines for fiction. See website for full guidelines.
Offers
Print magazine publication
For stories and artwork we pay £20 per item. For poetry we pay £20 per poet per issue.
Approaches
How to approach
Word file email attachment
In the body of an email
What to send
Full text
Author bio
User feedback
There is not yet any feedback for BFS Horizons.
If you have had any contact with BFS Horizons (or have any in future), remember to leave feedback – whether positive, negative, or neutral – to help other users.
Add
Note
Show
Notes
Hide
Notes
List
Notes
Notes