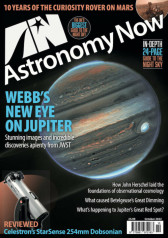 Astronomy Now
Magazine
Established: 1987
Last updated: October 4, 2022
Categories
Nonfiction
Articles
Astronomy
News
Astronomy
Description
The UK's biggest astronomy magazine. Since 1987 it has been essential reading for astronomers in the UK and around the world. Each month, the magazine contains features, reviews, news and practical guides on all aspects of astronomy, from the latest scientific discoveries to advice for those discovering the night sky for the first time.
Offers
Print magazine publication
Online
User feedback
There is not yet any feedback for Astronomy Now.
If you have had any contact with Astronomy Now (or have any in future), remember to leave feedback – whether positive, negative, or neutral – to help other users.
Add
Note
Show
Notes
Hide
Notes
List
Notes
Notes