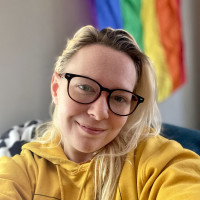 Aiden Siobhan
Associate Agent
Last updated: September 22, 2023
Literary Agency
Categories
Adult
Fiction
Graphic Novels
General
Novels
Contemporary
Historical Fiction
LGBTQIA
Psychological Horror
Romance
Speculative
Supernatural / Paranormal
Nonfiction
Graphic Nonfiction
Children's
Fiction
Graphic Novels
General
Middle Grade
General, and in particular
Fantasy
Young Adult
Fiction
Graphic Novels
General
Novels
General, and in particular
Fantasy
Description
Loves any story that is diverse, heartfelt, beautifully written, and makes them stay up reading until 3 A.M. Send them your trope-filled, high-stakes, addicting novels that will hook them so well they'll have to draw fan art (and they will)!
Approaches
How to approach
Query Manager
Contact
User feedback
There is not yet any feedback for Aiden Siobhan.
If you have had any contact with Aiden Siobhan (or have any in future), remember to leave feedback – whether positive, negative, or neutral – to help other users.
Add
Note
Show
Notes
Hide
Notes
List
Notes
Notes