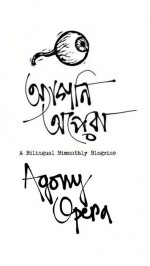 Agony Opera
Online Magazine
Established: 2018
Last updated: October 7, 2020
Categories
Fiction in Translation
Short Fiction
Contemporary
Culture
Erotic
Experimental
Fantasy
Literary
New Age
Philosophy
Politics
Social Commentary
Speculative
Surreal
Fiction
Short Fiction
Contemporary
Culture
Erotic
Experimental
Fantasy
Literary
New Age
Philosophy
Politics
Social Commentary
Speculative
Surreal
Poetry in Translation
Any Poetic Form
Experimental
Literary
Surreal
Poetry
Any Poetic Form
Experimental
Literary
Surreal
Description
We like things edgy, experimental (be it in language or form), surreal, magic-real, speculative, avant-garde. In short anything out of the box.

We have a soft spot for literature which makes a staunch stand on politics. And by politics, we mean the politics regarding the rights of the 99%, not the other way round. Though, we must admit socialist realism doesn't excite us that much.
Location
188 A/23 Maniktala Main Road
Parvati Residency, flat-304
Opposite Kankurgachhi post office
India
User feedback
There is not yet any feedback for Agony Opera.
If you have had any contact with Agony Opera (or have any in future), remember to leave feedback – whether positive, negative, or neutral – to help other users.
Add
Note
Show
Notes
Hide
Notes
List
Notes
Notes