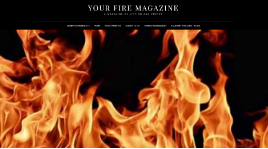 Y
___

F

___

Magazine

Online Magazine
Established: 2021
[ To view the full details you need to subscribe or log in ]
Last updated: November 24, 2022
Description
An online-only magazine, that regularly posts fiction and poetry from everyone.
Approaches
How to approach
Email
What to send
Full text
Contact
User feedback
There is not yet any feedback for Y___ F___ Magazine.
If you have had any contact with Y___ F___ Magazine (or have any in future), remember to leave feedback – whether positive, negative, or neutral – to help other users.
Notes for Y___ F___ Magazine
Add
Note
Show
Notes
Hide
Notes
List
Notes
Notes