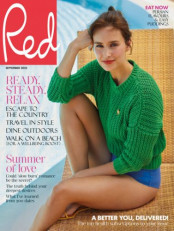 R
__

Magazine

Magazine
[ To view the full details you need to subscribe or log in ]
Last updated: September 22, 2022
Magazine Publisher
Categories
Nonfiction
Articles
Beauty
Books
Career Development
Decorating
Fashion
Films
Fitness
Hairstyles
Health
Interior Design
Music
Parenting
Recipes
Relationships
Sex
TV
Travel
Wellbeing
Women's Interests
Interviews
Women's Interests
Description
Magazine aimed at women in their thirties.
Online
Location
3
_
P
_____
S
_____
L
_____
S
___
4
__
United Kingdom
User feedback
There is not yet any feedback for R__ Magazine.
If you have had any contact with R__ Magazine (or have any in future), remember to leave feedback – whether positive, negative, or neutral – to help other users.
Add
Note
Show
Notes
Hide
Notes
List
Notes
Notes