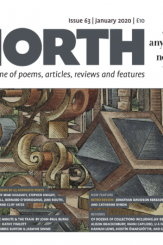 The N
____
Magazine
Established: 1986
[ To view the full details you need to subscribe or log in ]
Last updated: May 16, 2020
Categories
Poetry
Any Poetic Form
Contemporary
Description
Send up to 6 poems with SASE / return postage. We publish the best of contemporary poetry. No "genre" or derivative poetry. Submitters should be aware of, should preferably have read, the magazine before submitting. See our website for notes on submitting poems. No submissions by email. Overseas submissions may be made through online submission system.
Extents
Articles
Up to 2,000 words
Approaches
How to approach
Domestic Post
Overseas online submission system
What to send
Full manuscript
Don't approach by
International Post
Domestic online submission system
Location
The P
_____
B
_______
C
____
H
____
5
_
C
____
L
___
S
________
S
_
2
__
United Kingdom
User feedback
There is not yet any feedback for The N____.
If you have had any contact with The N____ (or have any in future), remember to leave feedback – whether positive, negative, or neutral – to help other users.
Add
Note
Show
Notes
Hide
Notes
List
Notes
Notes