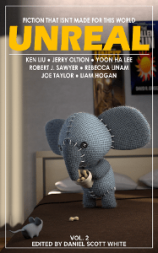 U
_____

Magazine

Magazine
[ To view the full details you need to subscribe or log in ]
Last updated: April 10, 2020
Magazine Publisher
Categories
Fiction
Short Fiction
Adventure
Alternative History
Comedy / Humour
Experimental
Fairy Tales
Fantasy
Folklore, Myths, and Legends
Gaslamp Fantasy
High / Epic Fantasy
Historical Fiction
Magical Realism
Military
Superhero Fantasy
Sword and Sorcery
Nonfiction
Articles
Fantasy
Magical Realism
Description
Publishes action & adventure, alternative history, dark fantasy, dragons & mythical creatures, epic, fairy tales, gaslamp, historical, humorous, military, myths & legends, superhero, and sword & sorcery.
Offers
$0.16 per word up to 3,000 words; $0.01 per word over 3,000 words.
Extents
Fiction
Up to 10,000 words
Approaches
How to approach
Online submission system
What to send
Full manuscript
Online
Contact
User feedback
There is not yet any feedback for U_____ Magazine.
If you have had any contact with U_____ Magazine (or have any in future), remember to leave feedback – whether positive, negative, or neutral – to help other users.
Notes for U_____ Magazine
Add
Note
Show
Notes
Hide
Notes
List
Notes
Notes