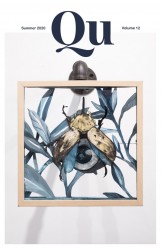 Q
_

Literary Magazine

Magazine
[ To view the full details you need to subscribe or log in ]
Last updated: January 25, 2021
Categories
Fiction
Short Fiction
Literary
Scripts
Film Scripts
TV Scripts
Theatre Scripts
Description
Submit prose or poems via online submission system. $2 fee. Does not accept international submissions.
Offers
$100 per prose piece; $50 per poem.
Approaches
How to approach
Submittable
What to send
Full text
Online
Contact
User feedback
There is not yet any feedback for Q_ Literary Magazine.
If you have had any contact with Q_ Literary Magazine (or have any in future), remember to leave feedback – whether positive, negative, or neutral – to help other users.
Notes for Q_ Literary Magazine
Add
Note
Show
Notes
Hide
Notes
List
Notes
Notes