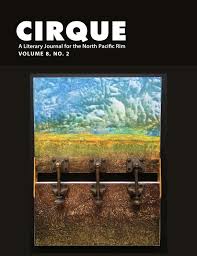 C
_____
Magazine
[ To view the full details you need to subscribe or log in ]
Last updated: June 30, 2020
Categories
Fiction
Short Fiction
North Pacific Rim
Nonfiction
Reviews
North Pacific Rim
Short Nonfiction
North Pacific Rim
Poetry
Any Poetic Form
North Pacific Rim
Scripts
Theatre Scripts
North Pacific Rim
Description
Publishes short stories, poems, creative nonfiction, translations, and plays by writers born in, or resident for at least five years in, the North Pacific Rim (Alaska, Washington, Oregon, Idaho, Montana, Hawaii, Yukon Territory, Alberta, and British Columbia). Submit via online submission system.
Approaches
How to approach
Submittable
What to send
Full manuscript
Editor
Contact
User feedback
There is not yet any feedback for C_____.
If you have had any contact with C_____ (or have any in future), remember to leave feedback – whether positive, negative, or neutral – to help other users.
Add
Note
Show
Notes
Hide
Notes
List
Notes
Notes