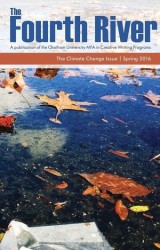 The F
_____

R

____

Magazine
[ To view the full details you need to subscribe or log in ]
Last updated: July 7, 2020
Categories
Fiction
Short Fiction
Literary
Nonfiction
Short Nonfiction
Creative Nonfiction
Description
Print and digital literary magazine publishing creative writing that explores the relationship between humans and their environments, whether natural or man-made. Submit 3-5 poems or prose up to 7,000 words between July 1 and September 1 for print, or December 1 and February 1 for online, via online submission system. No submissions by email.
Costs
A fee is charged upon submission
Approaches
How to approach
Submittable
What to send
Full manuscript
Online
Contact
User feedback
There is not yet any feedback for The F_____ R____.
If you have had any contact with The F_____ R____ (or have any in future), remember to leave feedback – whether positive, negative, or neutral – to help other users.
Notes for The F_____ R____
Add
Note
Show
Notes
Hide
Notes
List
Notes
Notes