firstwriter.com subscriber wins Ruth Rendell Short Story Competition
firstwriter.com – Saturday June 30, 2012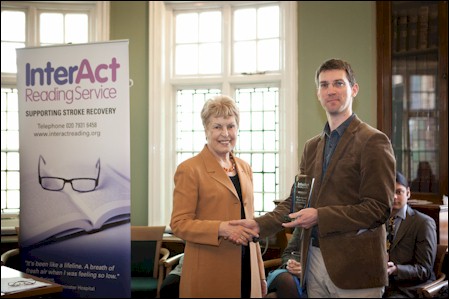 Christian Cook, a subscriber to firstwriter.com, has won the prestigious Ruth Rendell Short Story Competition. Run by InterAct Reading Service, an award-winning charity that aims to stimulate the minds of stroke patients through live readings, the competition is held biennially and is open to all UK residents. Christian (37), who lives in Street, Somerset, was presented with his award by Baroness Rendell at a ceremony in London.
Christian's story, "Facing East", will be included in a new collection of short stories, calledInteractions. The book, which is being sold in aid of InterAct, also includes contributions from Ruth Rendell, Toby Young, Nell Dunn, and Nobel prize-winning poet, Seamus Heaney, among others. They represent the thousands of stories that have been read to stroke patients across the UK, at hospitals and in specialist stroke clubs. The readings, which are all given by professional actors, not only support stroke recovery but also encourage the patients' own creativity.
Christian, who is a freelance designer and photographer when not writing, said of his win: "It was a great honour to receive the award from Baroness Rendell. InterAct is a wonderful charity that do a tremendous amount of good work to support stroke patients, and I'm delighted that my story will be included in their book."
firstwriter.com caught up with Christian to talk to him about his writing and his success in the competition.
fw: Congratulations on winning the Ruth Rendell Short Story Competition, Christian. Could you tell us a little bit more about the competition?
CC: Thank you. The Ruth Rendell Short Story Competition is a biennial writing contest judged by Baroness Ruth Rendell and organised by the award-winning charity, Interact Reading Service, of which Ruth Rendell is a patron. The charity arrange for professional actors to read to stroke patients in hospital wards and stroke clubs. These readings do not just help alleviate the boredom of the patients, but also help to stimulate the brain in rebuilding the neural network. The prize involves being appointed writer in residence to the charity and writing a further four stories over one year for Interact.
This year, for the first time, Interact have also published an anthology to highlight their work and raise funds for the charity. As the winning entry, my story is in the anthology alongside stories from the two previous winners and other pieces by writers such as Ruth Rendell, Seamus Heaney (Nobel Prize in Literature winner), Tony Young (author of How to Lose Friends and Alienate People) and Nell Dunn (author of Poor Cow and Up The Junction).
Out-of-control fire is always a frightening thing to witness and those FAST adverts about the signs of a stroke on TV where the condition is depicted in that way have always scared me. Some of the statistics I have read up on since winning the award have been chilling and really opened my eyes. One thousand babies suffer a stroke every year. I first read that and time just stopped still for a minute while I rewrote everything I thought I knew about strokes. Stroke is now the second biggest killer in England and Wales and the number one cause of serious disability in the United Kingdom.
With all the voices clamouring for attention nowadays, for a writer to be read by anyone at all is a great privilege, but to have my work used in this way is a huge honour and very humbling. I cannot think of a greater use of fiction than the work that Interact do.
fw: When you heard about the competition did you already have a suitable story ready to submit?
CC: I came up with my entry a little late in the day. I trawl firstwriter.com fairly regularly, but originally I had another story lined up for this one. Then at the last minute I decided that it wasn't a great fit. I think my original choice had been swayed too much by the judge being Ruth Rendell and at the last minute I decided I needed something that would fit better with what Interact do. So I wrote something in a hurry and broke some golden rules of mine. I submitted a first draft and I accidentally let some typos and grammar errors slip through. I thought that was the end of my entry, but I must have got something right as it made it through the preliminary panel to the final ten, then was shortlisted down to the final three by Ruth Rendell herself and then she singled out "Facing East" as the overall winner.
fw: What kind of approach did you take with it?
CC: I didn't want to create something too happy and "syrupy", but thinking of the patients in the wards, I didn't think they would want something too dark and sinister with all they would be dealing with. So I deliberately went for something that wrong-footed the reader slightly and played on their expectations. I also aimed for something very visual and rhythmic that took people back to memories of endless days in childhood summers.
"Facing East" can be read online for free on the Interact site at http://t.co/i6V8ESo2
The anthology Interactions is produced by Roast Books and is available on Amazon at http://www.amazon.co.uk/Interactions-A-Collection-Ruth-Rendell/dp/1906894116 and directly from Roast Books at: http://www.roastbooks.org/book/21/interactions
Proceeds from the book go towards helping the work of Interact Reading Service.
fw: Is writing something you've come to recently, or is it something you've always done?
CC: I used to happily play on my own for hours as a child. I would always get into trouble for getting too many toys out at once, but one thing never seemed enough to fully enact the plots in my head and so all the Smurfs and all the Lego figures and all the Star Wars figures and all the Play People and all the Action Men would become the various races of a bizarre Middle Earth-like land of differing scales.
At school, I wrote an alternative school magazine alongside with best friend that was very Dada and bordered on being completely non-sensical.
So writing fiction has always been bubbling just below the surface, but what really brought it to the fore was joining the world of "real" work. I graduated from a graphic design course and got a job as a designer at a nearby IT firm. It was a great little company and I'm still in touch with them, but it taught me that the 9-5 office environment was not for me. I remember very early on sitting in the boardroom with the two partners who ran the company to discuss the re-launch of the business. I was sitting there in a suit chatting through various bullet-pointed action plans and then I just froze and thought: "what on earth am I doing here?"
I felt like Sam Beckett. Not the Irish writer, but Dr Sam Beckett, the character in the TV series Quantum Leap, who would jump into people's bodies and have to fulfil some historically significant task as them. I felt like running to the nearest mirror to find out if I was a man or a woman and then wait for Dean Stockwell to show up with his tappy little iPhone thing.
fw: And so was that the point when you really chose to get into writing?
CC: I see my writing as more of a medical need than a choice. Tiny thoughts jump into my head – a line of dialogue, a scene, a character, a piece of plot – and then they begin to grow and more dialogue and characters start appearing. This continues until the concept fills my head and starts to push other things out. I start forgetting appointments and find I am packing the dishwasher as one of my characters. The only way of getting my head back is to drag it out of my brain and onto paper (well, a laptop screen). This is an ongoing process and often there is more than one concept growing in there.
fw: Has all your writing been short stories, or have you done other things?
CC: I wrote a couple of novels that I self-published years ago and they've been languishing around gathering dust on Amazon without any proper marketing. I then began a novel about a guy selling snow to the Inuit online and it ballooned up to a huge, unwieldy 250,000 words and became a bit unmanageable. It became a bit of an albatross. I am not sure which bit of an albatross it became; whichever is the bit that brings on writer's block and means you hardly do any writing for three or four years.
fw: So what drew you to start writing short stories?
CC: I had always been a little intimidated by short stories. You have to be so disciplined and there's no room for any waffle or filler text. Every word has to count and your editing has to be surgical. But I decided to give short stories a go, as they were quicker and the feedback cycle would be a lot faster. I also hoped it would sharpen my editing skills.
Once I started with short stories, I fell in love with them. I really like the challenge of telling something compelling within such a tiny window. Sometimes, I'll take a 3,000 word piece from one contest and try to chop it in half to fit into a 1,500 word limit contest. Trying to remove half the story and still have it work as a whole is a very rewarding and educational exercise.
My initial thought had been to write a load of short stories and publish them all for free online just to boost my exposure. But having written a few, I realised I had something that was worth finding a proper market for. That's when I started entering competitions, which was about three years ago.
fw: How did you go about finding competitions to enter?

CC: I regularly trawl firstwriter.com to see what new competitions are coming up. My memory is awful so I need something to manage it all. I use the info from the site to populate a spreadsheet of upcoming contests that shows the theme, closing date, word count etc. I also have an Adobe Illustrator document with a small "card" for each story with its theme and word count and another set of "cards" for the contests in order of closing date. I do my best to match up every contest that appeals to me with a relevant entry.
The email alerts are great as well. As soon as it comes through, I'll click the link to see if the competition feels like it fits with what I am currently working on or whether I want to write something specifically for it.
fw: How do you work out which story is going to best for each contest?
CC: It helps where there is a theme, but it can be tricky. Seeing what the judge has written can help, but you also have to consider that they might appreciate reading something very different to the material that they normally produce.
The sometimes-snobbish attitude that arises where people look down on genre pieces does annoy me. There are some publications and contests out there that claim they accept genre stories alongside literary fiction, but I have a feeling that some misguided desire to appear as intellectual and artistic pushes them towards favouring the literary works above the others. I never set out to write something literary or within a particular genre. The concept grows and then I see what direction it ends up going in. There is just good writing and bad writing as far as I am concerned. My only aim is to ensure it is good writing.
fw: So do you mainly choose competitions on how well they fit with the stories you have available, or are there other factors?
CC: It depends on what the result is offering. I avoid all competitions that offer to publish your work online on their website, as that will often rule it out of future contests and can put agents off if it's out there for free anyway. I always look to find evidence of what has happened to the previous winners of the contest. If there's nothing on the site about their previous successes then you have to question the true value of the prize.
The cash prizes never sway me at all. I am simply looking for anything that will give me something to make agents sit up and listen.
fw: Do you think that writing for competitions differs from writing for other markets?
CC: I am not sure it does differ much. I just write a short story and make sure it adheres to my own personal aims for the piece. Rather than write for each contest, I build up a backlog of stories and then adapt one or two to fit a contest when I see what fits.
I have recently begun copywriting for companies and I just treat each page on the website as if it were a short story. The company basically has a "story" to tell to their clients about their business and I find an engaging way of telling that story. It has a beginning and a middle and the end is the call to action. So far, clients have really liked the results.
fw: Do you always stick with the same kind of contests, or do you enter a variety?
CC: As long as it looks to be something that will produce agent fodder if successful then I will consider it.
fw: Did find that you had to enter a lot of stories into contests before you started to find success?
CC: You just have to keep throwing them out there until they start to stick. I entered 25 contests in 2010. I won one, made one shortlist and one longlist. I entered 55 in 2011. I was a third place finalist at the Morley Literary festival and got into a number of anthologies, including Momaya Press, The International Rubery Award Short Story Competition, The Gem Street anthology from Labello Press and the Ruth Rendell Short Story Competition. Although all these were entered in 2011, many of them were not announced until 2012. I have entered 25 so far in 2012 and I am waiting to hear back on most of them.
fw: What advice do you have for other writers?
CC: Read all the advice you can and don't ignore negative feedback, even if it is obviously wrong. Criticism is preferable to silence. But don't try to be all things to all people. Let all this input sharpen you, not swamp you.
I don't use the word "rejection" any more. It's such a big, ugly word; it makes it feel like they're saying "you and your work and all you do and stand for are worthless".
So I refer to them as "misses" now and try to keep the image in my head of someone practicing basketball in a back garden. You throw the ball up over and over. Some go in and some don't. When they don't, you just pick it up and throw it again. It's not a rejection, it's just you missed that particular time.
One story that did not even make the long list on a small contest got thrown straight back into a bigger competition without any alterations. It made it into the final shortlist to be printed in the anthology.
I remember a particular week this year when I received three misses in three days. When I first started out, that would have hit me hard, but I looked at why they might not have been hits and resolved to work on them where they needed tweaking. A month later, I was standing in a room with Ruth Rendell handing me an award.
You have to enjoy the whole process of competitions. Obviously everyone is aiming for success, but if you're just in it to win it then you're going to find it a tough journey.
fw: What do you plan to do next with your writing?
CC: I love short stories and will continue to write them, but there is a yearning to write some novels. I see short stories like those tiny boats that throng around the big ships in a flotilla. I decided at the beginning of this year that it was about time I brought out some more big ships. Short story writing has sharpened up my editing and I am now ready to chop a novel's worth of text out of the bloated 250,000 word monster.
But that process has not started yet. At the beginning of January, I was all set to start hacking into my old novel when I realised it might be quicker to write something entirely new rather than cut down that one. January and February produced two new novels. On the back of my recent successes, I will be approaching some agents with one of the two new novels. Once these take off, I will buy some time to take a big cleaver to hack through those 250,000 words. Watch this space.
fw: Good luck with the novels, Christian, and thanks again for taking the time to talk to us!
To search firstwriter.com's database of over 150 writing competitions to find the one where YOU could be a winner, click here