Your Complete Guide to Popular Literary Devices in Great Writing
bookriot.com – Thursday May 16, 2019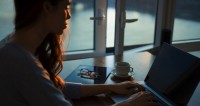 We all know what it means to read "good writing," right? Well, no, we don't. It's true that we often recognize something as "great" when we see it. Our teachers may reference the "literary devices" that make it good. But if you have to talk about a book in a class, it can be hard to describe "greatness." This is even more nerve-wracking on a test or quiz. I can't just write "I liked it" and move on!
WHAT ARE LITERARY DEVICES?
One of the best ways to connect deeply with texts when you are just learning about how to define good writing is through literary devices. Literary devices are like strategies or techniques that a writer can use. They showcase creative thought and connections between things that might otherwise not be connected. When we notice a great connection being made, we get the opportunity to share it with others in our classes or among our friends who also are reading such a book.
Below are just a few of the literary devices you may encounter as you delve into the great works of literature. You might also notice variations of them in your reading for pleasure, and thinking about literary devices may allow you to marvel even more at the genius of your favorite authors.
To read the full article on bookriot.com, click here