You'll want to vomit, cry, die or sleep forever: what happens when you finish writing your book
theguardian.com – Friday May 13, 2022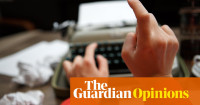 One of my main fears before submitting a book is that I will die in the hours before the deadline, and all the work I will have done will be for nothing because the publisher will only have an outline and the completed book itself will remain on a password-protected hard drive and ultimately buried in landfill.
I have long associated handing in a book and dying because the two seemed connected on some subterranean, unconscious level. Finishing a major project is a form of death – something has ended. But finishing is not something you hear much about in all the short courses, podcasts, MFAs, online articles and books on the creative process.
It's all about starting, developing characters, a writing routine, pitching to agents and marketing. But you never get told about the end, about the toll on body and brain cells of the work, and those strange weeks that follow the handing in of a manuscript where you gradually try and re-enter the world, often with the awkward gait of a newborn foal, but the aching back, neck, shoulders and arms of a pit labourer.
After I handed in my manuscript, the following 24 hours were fraught. I left my phone at Southern Cross Station and my laptop in a restaurant, and then once my phone had been retrieved, I lost it again. Two weeks on and I still feel like I'm in some sort of twilight zone, not quite reintegrated with the world.
So what happens when you finish a book?
To read the full article on theguardian.com, click here