Writing is a 'questionable business', but what to make of John Hughes, one of the most prolific plagiarists in literary history?
theconversation.com – Thursday March 2, 2023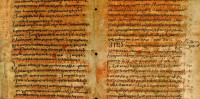 In June of last year, the Guardian revealed that John Hughes' Miles Franklin-longlisted novel The Dogs contained material lifted from The Unwomanly Face of War, a book by Nobel Prize-winning Belarusian journalist Svetlana Alexievich. When approached about this, Hughes apologised for the transgression, describing the plagiarism as unintentional.
Before long, it was found that The Dogs contained material taken from numerous other texts, including widely read classics The Great Gatsby and All Quiet on the Western Front.
Hughes responded to these further revelations not with an apology, but with a spirited self-defence. He compared himself, rather incongruously, to Jorge Luis Borges' Pierre Menard – a fictional character who sets out to rewrite Don Quixote line for line (the absurdity of the endeavour being the point) – and Jean Rhys, whose novel Wide Sargasso Sea does not hide the fact that it is a prequel to and reframing of Jane Eyre that exposes the original's colonialist underpinnings.
Hughes was, he claimed, creating "a kind of literary palimpsest". He insisted he had "always spoken through the voices of others".
To read the full article on theconversation.com, click here