Words of wonder: A look behind the scenes of Ireland's thriving literary magazines
irishexaminer.com – Wednesday March 15, 2023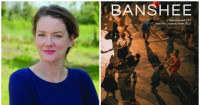 The Moth may be departing, but there's no shortage of other outlets for writers seeking publication. Here are profiles of a few of them
Who, in their right mind, would start a literary magazine? Plenty of people, it would seem, if the growth in publishing outlets for new writers, particularly online, is to be believed. While they're often seen as a kind of cottage industry, small literary magazines are part of a bigger picture.
They provide a temperature check of the cultural climate, they're a resource for talent-scouting publishers and a first stop for the big names of the future. Sally Rooney's work, for example, first appeared in The Stinging Fly (see panel) so their influence is often way out of proportion to their size.
We spoke to three journal editors at varying stages of the process to find out what possessed them to enter the perilous world of literary publishing.
To read the full article on irishexaminer.com, click here