Will Translated Fiction Ever Really Break Through?
vulture.com – Tuesday May 7, 2019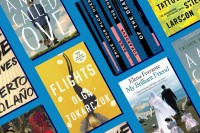 In May 2018, Olga Tokarczuk and her translator Jennifer Croft won the Man Booker International Prize for Flights, a novel that was published in Poland in 2007. Drive Your Plow Over the Bones of the Dead, for which Tokarczuk is a Booker finalist again this year, was translated a bit faster; it only took a decade. One of the biggest stars in translation of this century, Roberto Bolaño, author of 2666 and The Savage Detectives, fared no better. Back in 2003, when New Directions put out his first translated book, By Night in Chile, Bolaño had already passed away; he was a famous writer by then, at least in Spanish.
The process of literary translation takes time, obviously, but there's something else at play when it takes a decade or more for incredibly renowned authors to reach our shores. This is part of a much larger problem, frequently referred to as the "3 percent problem" by publishers of translation (like myself), which should be troublesome to anyone who believes the world is better off when cultures are in conversation with one another.
To read the full article on vulture.com, click here