Why are cliches in writing so bad?
authorlink.com – Tuesday September 1, 2020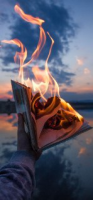 Writing is a craft that requires constant improvement, whether you are a beginner working to develop their first story or a seasoned author with many accomplishments under their belt.
Among other aspects, writing without cliches is one of the vital skills prospective essayists and novelists have to master before they start to consider publishing their works. If you're struggling with this challenge and feel insecure about your texts, you can easily avoid cliches in writing in 6 simple and actionable steps.
But first, let's talk about what cliches are, why you should steer away from them, and which ones are the most common (and, therefore, the ones you should be on the lookout for the most).
Why are cliches in writing so bad?
Cliché (past passive participle form of the French word clicher, referring to a stereotype) is a word or a phrase used so often in writing and speech that they're no longer appealing or effective.
To read the full article on authorlink.com, click here