What this wordy writer learned by keeping it short
eu.azcentral.com – Sunday June 27, 2021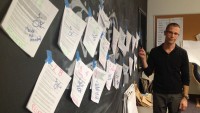 When I took this assignment three years ago, moving my column to the top of Page A2 and writing six times a week instead of once, my editors told me I could write about anything I wanted. Just do it in 326 words.
Heck, it practically takes me 326 words to say hello.
My predecessor, Clay Thompson, had done it. When Clay was my editor in my early years at the paper, he'd chide me to "Write tight, and make it sing."
I never took to it. The license plate on my car says, LNGSTRY.
To read the full article on eu.azcentral.com, click here