What the death of a literary magazine says about our cultural decay
washingtonpost.com – Tuesday April 18, 2023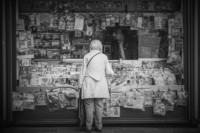 hristian Lorentzen, the former book critic for New York Magazine, is a longtime contributor to Bookforum, the London Review of Books and Harper's Magazine.
I was the boy who loved magazines. At home, my parents would confiscate the copies of Mad, Ray Gun and Spin that came in the mail, forbidding me from so much as looking at them until I finished my homework. My appetite for glossy pictures, for clever cartoons, for punning prose — for all the intelligence I couldn't find in my small town or on television — had to be suppressed, lest I fail out of school. (So thought my mother.) Even now, the arrival of the latest issue of the Baffler or New Left Review feels like an event: a new vision of the world as seen by many minds, wedged between two covers.
But the American magazine is in a state of decay. Now known mostly as brands, once sumptuous print publications exist primarily as websites or YouTube channels, hosts for generic scribblings, the ever-ubiquitous "take." Meanwhile, a thousand Substacks bloom, some of them very good, with writers in the emancipated state of being paid directly by their readers. Yet even in this atomized, editorless landscape, perverse incentives apply. Are you thirsty for another post about cancel culture or wokeness? Me neither. Yet culture war still largely rules the day.
To read the full article on washingtonpost.com, click here