What's the Key to Writing Realistic Historical Fiction?
crimereads.com – Tuesday November 22, 2022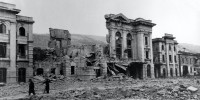 William Christie says it's all about timelines, a sense of place, and including the right details.
I'm not a historian, just a novelist who happens to be a history fanatic. So when I write a spy novel set during World War II, fake history is unacceptable. Even though my protagonist Alexsi and the situations he finds himself in may be fictional, the story has to be set within the context of real locations, real historical characters portrayed accurately, and an actual historical timeline.
As a history fanatic I feel obligated to offer my readers history that they may not necessarily be familiar with. My previous novel, A Single Spy, was set among the German exile colonies of Azerbaijan, Stalin's Russia, Nazi Germany, Iran, and a German plot to assassinate Roosevelt, Churchill, and Stalin at the Teheran Conference in 1943.
Readers clearly appreciated it, so obviously for The Double Agent I couldn't take the easy way out. Alexsi, who is interested only in personal survival, not ideology, had to make his way out of Iran after betraying both the Germans and the Russians, and being left disappointed in his offer of service to the British.
Of course his journey could not be carefree. Alexsi would have to be dragged to London, think he was safe, then targeted by the Russians and their traitors in British Intelligence. He had to get out of London in order to survive, but the only way he could do that was to offer to spy again. It's 1944. Where?
To read the full article on crimereads.com, click here