What it really takes to be a writer, according to Roald Dahl
stylist.co.uk – Friday September 13, 2019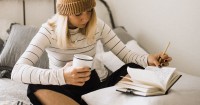 Ever dreamed of becoming a great writer? We're pretty willing to bet that almost anyone reading this page has, at some point, felt a story bubbling up inside of them… but that, for whatever reason, they decided not to sit down and put pen to paper.
Of course, it's not exactly unusual that so many of us have been scared off. After all, writing is hard work. Indeed, looking back on his years as a writer in Boy: Tales of Childhood, Roald Dahl contended that "two hours of writing fiction leaves this particular writer absolutely drained".
The celebrated author continued: "For those two hours he has been miles away, he has been somewhere else, in a different place with totally different people, and the effort of swimming back into normal surroundings is very great. It is almost a shock.
To read the full article on stylist.co.uk, click here