What Is A Book Coach? A Guide To Seeking And Becoming One
bookriot.com – Friday October 4, 2019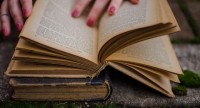 Are you still scratching your head trying to work out just what exactly a book coach is?
Here's the scenario:
You've got a great idea for a book, you read copiously, and you're a pretty talented writer (if you say so yourself). You've read On Writing by Stephen King and The Writing Life by Annie Dillard and you're acquainted with copious theories on plot and pacing and characterisation, but you just can't seem to get that New York Times bestselling book from your head to paper.
To read the full article on bookriot.com, click here