What Five Years with a Predatory Vanity Press Taught Me About Art and Success
lithub.com – Tuesday August 23, 2022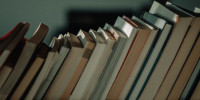 Every few months, I receive an email or phone call from someone who claims to work for a literary agency or publishing entity. In the lengthy messages variegated with bold-faced sentences, or voicemails in which the speaker mispronounces my maiden name, I'm promised six-figure book deals with Simon & Schuster or Penguin Random House ("Yes, mmhmm that's correct, Penguin," one woman repeated in her message). I'm told that I will be represented to their network of mainstream filmmakers and that authors who have "partnered" with these publishers or agents have been New York Times and USA Today Bestsellers.
But these messages have nothing to do with the novel I'm actively querying. Instead, I'm told that a book I wrote as a teenager, self-published through an extinct vanity press and now buried in the library of obscure titles on Amazon, is the reason for their interest.
When I was seventeen, I sent the first book of a YA fantasy series to a publishing company I found through a Google search. The website had an ad video from Miss Oklahoma, vouching for the integrity and Christian principles of the press. My mom answered the phone when they called one afternoon of my senior year. The acquisitions editor told her my book had great potential and promised a full-scale publishing deal and marketing campaign. She failed to mention any expenses on our part, instead dropping the sum of $30,000, the amount the publisher would commit to me. She guaranteed my book's success. When my mom rushed to tell me, we could barely contain our disbelief and excitement until my dad got home.
I remember his words for it: "It almost seems too good to be true."
To read the full article on lithub.com, click here