Vicarious travels: On the travel writing genre
mancunion.com – Saturday December 7, 2019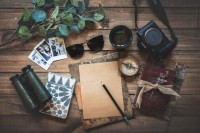 Upon arriving at Waterstones there is one section we tend to flock to: fiction. We crave the idea of losing ourselves in others' stories, travelling into our imagination. Whilst I'm an aficionado for the fictional, in recent months I've come across a new genre that allows us to explore the amazing and varied world we live in and follow the stories of real people's adventures and experiences, of people's subjective and varying experiences when travelling across the globe.
I'm now a strong advocate for the modern travel genre, and have a few recommendations for reading over the winter break.
Travel writing encompasses so many styles and sub-genres – the common characteristic is simply to give a new perspective on life, through stories of new places and cultures. It isn't simply recommendations of where to go and what to see, like promotional travel magazines, but rather tales of real people going out and seeing the world.
To read the full article on mancunion.com, click here