Turning Pages: When it's good to break the writing rules
smh.com.au – Sunday August 26, 2018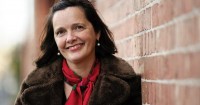 Sometimes the writer doesn't need a gentle muse when facing a blank page. Sometimes the writer needs a pep talk from a coach, the kind that gets you out in the drizzly dawn doing push-ups and feeling good about it.
If that's your bag, then Catherine Deveny is your woman. The comedian and writer who describes herself as "Atheist, Feminist, Dyslexic" runs regular writing classes for her Gunnas (as in "I'm gunna write a book some day"). For her students, that day is today. And she'll do everything short of push-ups to motivate them and destroy their procrastination and fear.
Judging from the website testimonials, her Gunnas adore her. So I was intrigued to see her in action at the recent Bayside Literary Festival, talking about "The Twelve Things They Don't Tell You About Writing".
I was particularly struck by one piece of advice that was exactly the opposite of what most creative writing teachers tell their students: "You don't have to read a lot".
To read the full article on smh.com.au, click here