Thought poetry was dead? The 'Instapoets' raking it in online would beg to differ
theage.com.au – Saturday November 2, 2019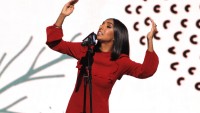 Paterson, Poe, Plath – would they have resisted plugging their work on Instagram? Meet the Millennials sending their pop verse viral – and generating sales that prove poetry's demise has been exaggerated.
Standing on a Persian carpet before a crowd in Bankstown in Sydney's west, swaying to the rhythm of her own words, Canadian performance poet Rupi Kaur recited Broken English. It's a poem about the shame she once felt over her Sikh mother's inability to speak the language. The 300 mainly immigrant Australian women at this, the Bankstown Poetry Slam, were mesmerised. Borrowing from the 1950s beatnik poetry tradition, the audience snapped their fingers in appreciation, then hollered and cheered as Kaur's performance came to a close. "You can go on forever," someone from the floor proclaimed, transfixed as much by the cadence of Kaur's voice as by her verse.
It was May 2017, and the then 25-year-old Canadian dubbed the "queen of the Instapoets" and the "Oprah of her generation" was in town as a keynote speaker at the Sydney Writers' Festival. Accompanying her on the visit was her publisher Kirsty Melville, whose American company is credited with a global revival of interest in poetry through the publication of books by young women like Kaur, now 27, who have both a way with words and a big social media presence. In Kaur's case that means 3.8 million Instagram followers, who feast on a feed that alternates between selfies and sparse but digestible poetry.
To read the full article on theage.com.au, click here