The one line that's missing from all the writing advice
bookriot.com – Tuesday May 24, 2022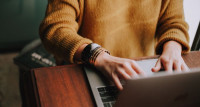 I started writing as an adult in 2009. I'd scribbled many poems and "novels" as a child and teen, but I had a West Wing-based epiphany in my early 30s (it's a long story) and started writing seriously then.
Alongside the joy of getting to know my characters and daydreaming a plot into existence, I also read a lot of books on the craft of writing. Studying, I could do. I know school isn't for everyone, and that I benefit from a lot of white and neurotypical privilege, but I loved school. Looking back now, I think part of what I loved about it was the (mostly) reliable nature of it. I grew up in Belgium in the 1980s, and there was a lot of listening to teachers, making notes neatly in my exercise books, learning things by heart for tests and reciting them at the chalkboard. I was good at following rules, and I liked the fact that a certain kind of input meant a certain kind of mostly predictable output.
I knew, of course, that art is less predictable than that. It was also apparent early on as I started writing that I thought outside the box of what fiction, at least British and American fiction, requires to be considered publishable. But still, if pressed, I would have said that learning my craft and persevering would eventually result in publication. I knew that it might be a long road (five years, maybe!), but if I learned about how to submit to agents, I would eventually find my place in the publishing world.
To read the full article on bookriot.com, click here