The app that makes writing less lonely
bbc.co.uk – Monday November 26, 2018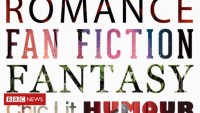 If you see a writer in a movie, most likely she (or he) will be tapping on a laptop. But many young writers are doing it on mobile phones, and sometimes in teams.
Daniel, who uses the pen name LisVender, begins the story, which his writing team decides to call A Small Case of Writer's Block.
The tapping of Sara's pen against her glasses became so rhythmic that it sounded like a metronome set to allegretto. She spun in her swivel chair, watching the bookcases in her study swing by. She had to admit it: her story was stuck, her characters were stuck, and so was she.
Ella, pen name Elle, who has 313 stories under her belt, then picks up the tale.
Sighing, she slumped forward, forehead hitting the desk with a thump. How was she going to keep the plot rolling forward, give her characters the development they needed? Her eyes swivelled to the window, the glass frosted over with thin ice. Maybe a walk outside in the cold
At 276 characters, Elle has nearly reached her 280 limit, so she stops mid-sentence and passes the story to the next writer. (You can read the rest of the story at the bottom of this page.)
Welcome to the world of Inkvite, one of a number of creative-writing platforms popular with teenagers and young adults in the US. It allows users to share stories, comment on them, and also collaborate.
Here, five Inkvite authors explain its appeal.
To read the full article on bbc.co.uk, click here