The 25 best podcasts for writers
mashable.com – Monday April 25, 2022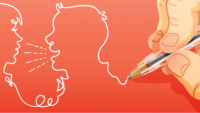 Audio can be a bit of a contentious subject among written word lovers. But we're not here to re-litigate the age-old debate over whether listening to audiobooks counts as "reading" (it does, by the way).
Writing can be a lonely profession (or currently unpaid passion, until it can become your profession). But podcasts can bring listeners a sense of community no matter how isolated they are in their interests, both emotionally or geographically. As the illustrious history of famous literary circles goes to show, it often takes a village to produce the singular creative geniuses of an era.
So for established authors or amateur creative writers with big aspirations alike, there's a lot to be gained from the virtual book clubs and writer communities behind the podcasts listed below. Whether you're looking for guidance on the writing process, seeking to learn the fundamentals of great literature or about the publishing industry, or looking for muses to refill your well of inspiration, we've got you covered. From fiction to memoir, screenwriting to playwriting, and prose to poetry, there's an endless world of audio storytellers just waiting to fill your ears with the written word.
To read the full article on mashable.com, click here