The 2010s were supposed to bring the ebook revolution. It never quite came.
vox.com – Monday December 23, 2019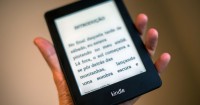 At the beginning of the 2010s, the world seemed to be poised for an ebook revolution.
The Amazon Kindle, which was introduced in 2007, effectively mainstreamed ebooks. By 2010, it was clear that ebooks weren't just a passing fad, but were here to stay. They appeared poised to disrupt the publishing industry on a fundamental level. Analysts confidently predicted that millennials would embrace ebooks with open arms and abandon print books, that ebook sales would keep rising to take up more and more market share, that the price of ebooks would continue to fall, and that publishing would be forever changed.
Instead, at the other end of the decade, ebook sales seem to have stabilized at around 20 percent of total book sales, with print sales making up the remaining 80 percent. "Five or 10 years ago," says Andrew Albanese, a senior writer at trade magazine Publishers Weekly and the author of The Battle of $9.99, "you would have thought those numbers would have been reversed."
And in part, Albanese tells Vox in a phone interview, that's because the digital natives of Gen Z and the millennial generation have very little interest in buying ebooks. "They're glued to their phones, they love social media, but when it comes to reading a book, they want John Green in print," he says. The people who are actually buying ebooks? Mostly boomers. "Older readers are glued to their e-readers," says Albanese. "They don't have to go to the bookstore. They can make the font bigger. It's convenient."
Ebooks aren't only selling less than everyone predicted they would at the beginning of the decade. They also cost more than everyone predicted they would — and consistently, they cost more than their print equivalents. On Amazon as I'm writing this, a copy of Sally Rooney's Normal People costs $12.99 as an ebook, but only $11.48 as a hardcover. And increasingly, such disparities aren't an exception. They're the rule.
So what happened? How did the apparently inevitable ebook revolution fail to come to pass?
To read the full article on vox.com, click here