Thanks to Undocupoets, poets don't need papers to be heard
latimes.com – Tuesday February 23, 2021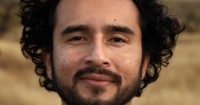 Anyone can write a poem. To be a poet, though — to have your work read in an age not exactly teeming with famous verse stylists, Amanda Gorman aside — you have to submit. Every year, poets around the country submit their work for dozens of prizes and contests, hoping for a shot at prestige, visibility, maybe eventually an academic job offer. It's a difficult path, and until recently it was an impossible one for poets like Javier Zamora.
Zamora earned his MFA in poetry in 2014 at New York University under the best writers in the country. He'd been published in literary journals like Narrative and Meridian (and would be in the New Republic and the New York Times). But in his early years, he was largely excluded from prizes, contests and fellowships.
The reason? His legal status. Zamora, 31, was born in El Salvador and had temporary protected status, but he was neither a citizen nor a permanent resident of the U.S. — a longtime requirement for award submissions.
To read the full article on latimes.com, click here