Ten tips for writing for audio
thebookseller.com – Monday September 2, 2019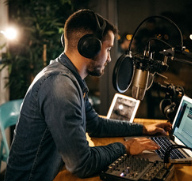 As a university writing tutor it can be embarrassingly tiresome to always practise what you preach. But 5,000 words is not a daunting challenge, not an Annapurna, nor even a Munro, except . . .
Except that these 5,000 words must lift themselves from the page and fly from the mouth of a narrator into the ear of a listener. They must convince by their authenticity. They must instantly engage, hold and persuade the listener to join in a secret communion. As a BBC radio producer, the watchword (we didn't have mission statements or mantras back then) was always "take me there and make me care".
Our duty was to bring the listener on a journey, and make sure they stayed on the voyage until the final second. No small task these days with a magnitude of offerings to tempt us to detour this way and that.
To read the full article on thebookseller.com, click here