So you want to write a bestseller? Try these top tips
smh.com.au – Sunday September 4, 2022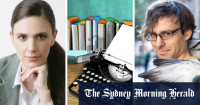 Everyone, they say, has a book in them. But where do you start? With the Melbourne Writers Festival about to open, we asked leading authors to give their tips on how to create a literary triumph.
Fiction: C.S. Pacat
Write the book that you want to read. This is a cliche, but few people actually do it. Imagine that you are walking into a bookshop or a library. There is a book you are looking for but never find. The reason you never find it is that this book doesn't exist on the shelves. This book exists only within you.
This is the book you must write. You will know some things about it instinctively. Imagine yourself searching for it seriously. Close your eyes. You know what genre it is. You know how you want it to make you feel. Write those things down. Do you know anything more? The type of characters it might have? The setting? The type of journey it takes you on?
To read the full article on smh.com.au, click here