Shakespeare in lockdown: did he write King Lear in plague quarantine?
theguardian.com – Sunday March 22, 2020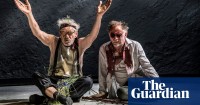 While those of us stuck in self-isolation or working from home watch TikTok videos and refresh liveblogs, a meme has been going around that claims Shakespeare made use of being quarantined during the plague to write King Lear. The Bard supposedly took advantage of the Globe's lengthy closure to get on top of his writing in-tray – coming up with Macbeth and Antony and Cleopatra to boot. If you weren't panicky enough about how little you've achieved recently, this is surely a way to feel worse. Why aren't you finally dusting off that novel or screenplay you've been itching to write? It's what the Bard would do, surely.
To read the full article on theguardian.com, click here