Scribbling at Sea
By Lesley Middleton
firstwriter.com – Monday May 29, 2017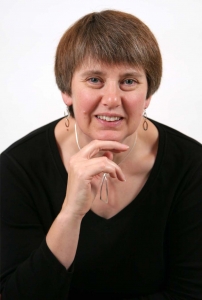 Successful author, Diane Janes is interviewed by novice writer, Lesley Middleton
Most people boarding a cruise ship are looking forward to sightseeing, socialising and, perhaps most of all, relaxing on deck soaking up the sun. Not author Diane Janes though – at least not whilst she's on board as a guest speaker. When she's not enthralling passengers with talks about famous authors and real-life crime mysteries, she uses her time on the ship to write her own books. There are few interruptions and plenty of food and drink readily available so maybe more writers should follow her example.
As a novice writer, I was thrilled to meet Diane on a recent cruise on P&O's Oriana. Diane is generous in her encouragement to new writers. She will happily chat to cruise passengers with ambitions to see themselves in print and has tutored several courses for would-be authors, despite never having had any ambitions to become a teacher. She very graciously agreed to being interviewed by me.
LM: What was it that first made you think you could make it as a writer?
DJ: My initial encouragement came from an agent who didn't accept my work but urged me to continue writing. I persevered and eventually three major breakthroughs came within weeks of each other. I was shortlisted and subsequently a finalist for a Crime Writers' Association (CWA) award, after that a contract for my non-fiction work arrived within a fortnight and that led directly to my acquiring an agent.
LM: What's the secret to writing success?
DJ: It's not so much about writing; more about re-writing. A lot of people don't realise just how much re-writing is necessary. The initial writing of a novel can often be the easiest part of the process. You also need tenacity, hard work and determination.
LM: What was your first success?
DJ: Short stories; romances written for a women's magazine. They were embarrassingly bad but fortunately not published under my name. It wasn't about the money, it was about someone taking me seriously enough to pay me. I still have the photocopy of that first cheque.
LM: Do you still write short stories?
DJ: No. I didn't feel short stories were my natural form of expression. I prefer writing novels and investigative non-fiction books.
LM: Which do you prefer to write; fact or fiction?
DJ: I enjoy both. I love the variety and freedom of not being tied to the same thing all the time. But they are very different. When writing a novel I'm in charge and if something doesn't fit I can alter it. When it's real life, I'm very careful to get things right and make sure I'm not embellishing things or making assumptions. I'm always careful to check that I can substantiate everything that's there.
LM: Where do you carry out your research?
DJ: I use many of the usual places including the British Library, National Archives and records offices and police HQs across the country. But sometimes my investigations take me to more unusual places like the Royal Society of Veterinarians – they were particularly helpful. I also go to the actual houses or neighbourhoods where crimes took place. On one occasion I proved for myself that a witness could not possibly have been telling the truth in court as, by standing on the actual spot, I was able to see that the sight lines were wrong – a fact that wasn't apparent from the OS map. My current project is a novel set in the 1930s. I wouldn't have considered doing this without doing my homework. With so many people still alive who remember those times it would be too easy to get things wrong.
LM: Do you write with a particular audience in mind?
DJ: I don't write for a definite readership. I often have ideas I want to put across. I tend to see the story happening but in parallel to that; I know where I want the story to go and what I want it to do.
LM: Do you plot in detail?
DJ: I have to know where my plot's going. It's like a journey with a start and a finish and landmarks on the way. But the route might deviate a bit as I go along. Sometimes it's a very worthwhile diversion and I realise the route I originally planned would have been very dull and I'm better leaving it out.
LM: Do you find it helps to set yourself targets?
DJ: I don't work to targets, such as completing a specific number of words in a day. I'd be too hard on myself if I missed them. I'm meticulous about meeting contractual obligations and make a point of not having to be hassled by my publishers to meet deadlines.
LM: Has writing opened up other opportunities for you?
DJ: I've met a lot of very interesting people, some through the Crime Writers' Association that I wouldn't have expected to meet, and people who come to hear me speak on the courses I tutor. It's also taken me round the world – literally. I'm probably the only person to have been to Australia for a day! I was engaged as a speaker for part of a world cruise and I got off the ship to fly back to the UK as soon as it arrived in Australia.
LM: Is crime the main topic for the talks you give?
I give talks on a range of topics including famous authors such as Agatha Christie and Arthur Ransome as well as those based on my own investigations into historical crimes.
LM: How many books have you had published?
DJ: So far, four novels and three investigative non-fiction books.
LM: Tell me about your most recent ones.
DJ: My latest novel, Stick or Twist, is a twisting tale of suspense. It was published by Severn House in August 2016. I've just had another non-fiction book, Death at Wolf's Nick, accepted by Mirror Books for publication in 2017. That's an investigation into the Evelyn Foster case in 1931.
LM: What tips would you give to aspiring authors like me?
DJ: Read a lot and very widely, not just your favourite authors. Always assume you can improve what you're doing and don't just rely on feedback from your nearest and dearest; being part of a good writing group can be helpful.
About the Author
Lesley taught in further and adult education for over thirty years and when she retired she took up writing as a hobby. She has had short stories published on line and in anthologies and has had success in several competitions.