Publishing's 'American Dirt' Problem
publishersweekly.com – Saturday February 1, 2020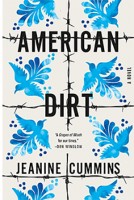 Ask someone who works in publishing what they think of American Dirt and they might tell you they're not the best person to speak to the situation. Or that they haven't read the novel. They might directly reference their privilege, then suggest you ask one of the handful of Latinx people who edit or sell books.
This was the reaction from myriad publishing professionals when questions were put to them about the latest controversy that has engulfed their business.
Two weeks ago Jeanine Cummins's novel, about a bookseller from Mexico who flees to America with her son in tow to escape the local drug cartel, was a bestseller-in-waiting, riding a wave of critical support to its January 21 release date. Now it is a cultural lightening rod, and its author is at the center of a complex debate about power, privilege, and who should be given a platform to tell what stories. Though many insiders say they welcome the conversation that the book's publication has inadvertently raised—about which books the industry chooses to elevate, and whether it's properly equipped to champion the work of diverse voices—they're stunned at the aggressive turn the debate has taken. And, even if they won't say so publicly, they admit feeling sorry for Cummins who, as an author, should not have to answer for the shortcomings of the publishing industry as a whole.
To read the full article on publishersweekly.com, click here