On Writing a Social Novel, Giving Clear Feedback, and Outlasting Doubt
lithub.com – Wednesday April 20, 2022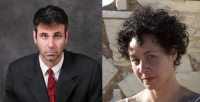 I met Melissa Chadburn in 2011, at the Tin House Writer's Conference, where I taught her in workshop. You already know that I'm going to tell you that she was brilliant and kind and funny, even back then, so I'll skip to the part where I get really stoned.
This happened on the final night, when the poet D.A. Powell (bless his soul) proffered me hits off a blunt the size of a drumstick. At some point, I passed along to Melissa the little secret I had been saving for just such an occasion: the Croatian publisher of my debut story collection ("My Life in Heavy Metal") had—after much anguished consideration—come up with a title that would capture the essence of my work for her readers: Sexburger U.S.A.
Oh my god, did we laugh.
Over the next five years, Melissa did two things for which I am still grateful. First, she took to calling me as Sexburger. Second, she sent me various drafts of her novel for review, absorbing, in the process, some pretty blunt feedback.
To read the full article on lithub.com, click here