Novelists are writing for TV more than ever. How it's changing the industry
latimes.com – Saturday February 13, 2021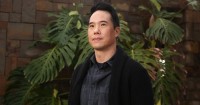 In 2013, Sheri Holman had just turned 47 and her life was falling apart.
Raised in Virginia by a struggling single mom, Holman had bootstrapped herself through college to earn a theater degree, then moved to New York City to pursue acting. When that plan proved unworkable, Holman took a series of temp jobs in publishing, eventually becoming an assistant to an influential literary agent.
Throughout the early 1990s, when book advances were soaring, Holman wrote her first novel, "A Stolen Tongue." Published to raves in 1997, the book built an audience for her 2000 bestseller, "The Dress Lodger." In 2003, Holman's "The Mammoth Cheese" was a finalist for the Orange Prize. Secure in her work, she married a good guy with a real job. They bought a Victorian house in Brooklyn, had a daughter and then twin sons. Holman quit her job to write novels and mother full-time.
Slow-forward five years. One of Holman's sons was battling cancer. Her marriage was over. Her third book was taking forever to complete. "Witches on the Road Tonight" was finally published in 2011, to disappointing sales, with the book advance money long gone.
To read the full article on latimes.com, click here