Nonfiction author Kim Cross breaks down how to sell a book proposal
niemanstoryboard.org – Saturday November 18, 2023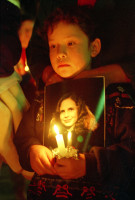 A book project is no pursuit for impatient writers. Bringing a book from the page to stores requires a blend of timing, stamina and alchemy: a ripe idea, relevance in the zeitgeist, a confluence of favorable market conditions and editorial partners who have the determination — and means — to help sell it. Journalist Kim Cross waited nearly eight years for these factors to converge before "In Light of All Darkness" would live in the world.
Cross, who is based in Idaho, began nursing the idea of filling in reporting gaps of an infamous true crime case in 2015. She spent the next year or so tracking down archival material, interviewing subjects and mapping out the arc of a propulsive story about the kidnapping of Polly Klaas, a 12-year-old who lived in Petaluma, California, in 1993.
Cross initially pitched the book in 2015 — shortly after the publication of her first book, "What Stands in a Storm" — but didn't land a deal. After a potential offer fell through, she shifted her attention to other projects. Then, in 2021, Cross found an editor and publisher who felt like a good fit and were committed to publishing the book "with muscle," as she puts it.
Storyboard talked with Cross about what nonfiction writers need to know about the book publishing process, how a book proposal mirrors and diverges from a magazine pitch, and the roles that each editorial partner plays. Our conversation has been edited for length and clarity.
To read the full article on niemanstoryboard.org, click here