My Novel Was Rejected By 41 Literary Agents Before Becoming a Bestseller. Here are 8 Truths About Perseverance I Want Everyone With a Big Dream to Know
mariashriversundaypaper.com – Sunday May 28, 2023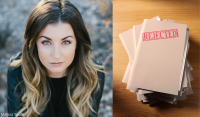 When I tell my story, it's the ending that gets attention.
New York Times bestselling author! Both of my books are being turned into movies! I'm adapting my first novel for the screen! Five separate seven-figure deals!
It'd be easy to conclude that with all that incredible success, the path to get here must have been smooth and clear.
Nothing could be further from the truth.
As a young twentysomething, I spent years pursuing my Broadway dreams in New York, which ended with me and my embarrassingly thin resume buying a one-way ticket back home to Arizona. My mid-twenties were spent sleeping in the twin bed in my childhood bedroom at my parent's house, trying to figure out what a person with a degree in musical theatre (who failed at working in musical theatre) was supposed to do with the rest of her life. For years, I wrote "figure out my life" on every to-do list I created. I meant it sincerely. It never got scratched off.
To read the full article on mariashriversundaypaper.com, click here