Little magazines in Instagram era, a tete-a-tete with independent writer Subhankar Das
indiablooms.com – Monday May 23, 2022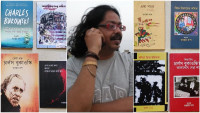 Welcome to the world of little magazines, mimeo editors, outlaw poets, chapbooks and experimental writing. IBNS caught up with Subhankar Das, an independent writer, literary activist, poet, blogger, publisher and film producer, to answer some of the questions pertaining to the future of little magazines and small publications in the era of Instagram.
The Little Magazines movement is a world of its own where unknown writers, unpublished poets and unsung litterateurs and activists share their literary exertions and thoughts with well-knit think alike groups spread across the globe.
But how is this child of the mimeograph revolution of the 60s and 70s coping up with the ever-evolving digital universe where the rules of publication and the way we share information have vastly changed. Is digital revolution an existential threat to Little Magazines or will it bring boundless opportunities and unlock limitless creativity?
To read the full article on indiablooms.com, click here