Lights, camera, fiction: a film lover's guide to writing a novel
irishtimes.com – Thursday March 26, 2020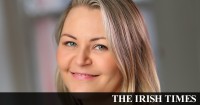 I have always had a yearning to capture the visual. When I was very young, and before I owned a camera, I'd use my fingers as a frame and peer through them to see what a photograph of the scene before me would look like.
I went on to study film at third level, and when I set out to write my debut novel, You Have to Make Your Own Fun Around Here, I decided that I wanted the reader to see the story unfolding in their mind's eye, much like a film.
I asked myself, if I was to make a film of this novel, what would it look like? Whose perspective would work best? How could I heighten the narrative's impact through the use of pictures and visions? The film student in me was excited at the prospect of creating a visually driven story, and putting the storytelling skills I'd gained at film school to good use.
To read the full article on irishtimes.com, click here