Kate Clanchy: how publishers became the book-burners
spiked-online.com – Wednesday January 26, 2022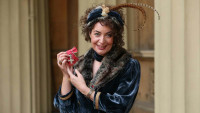 In 2021 author, poet and teacher Kate Clanchy gained an unwelcome new accolade: the award for the most liberal target of a cancellation yet. Clanchy's much-celebrated Some Kids I Taught and What They Taught Me, about her experiences of teaching poetry to disadvantaged children around the UK, won the Orwell Prize in 2020. But a year later, thanks to a handful of the book's sentences being shared out of context on social media, she found herself publicly shamed by today's self-appointed moral guardians. She went from being applauded for bringing poetry to working-class children to being humiliated into accepting sensitivity-reader approved rewrites of her work.
It might be a new year but Clanchy's punishment beating continues. It was announced last week that plans for a woke rewrite of Some Kids I Taught had been dropped – not because it was a God-awful idea to begin with, but because Clanchy and her publisher, Pan Macmillan, have decided to part company 'by mutual agreement'.
The publisher's statement notes: 'Pan Macmillan will not publish new titles nor any updated editions from Kate Clanchy, and will revert the rights and cease distribution of Some Kids I Taught and What They Taught Me and her other works.' This is an astonishing attempt by a publishing company to distance themselves from an author and her work.
To read the full article on spiked-online.com, click here