Jason Mott on the Power of Routine, and Tackling Writer's Block by Writing Badly
lithub.com – Wednesday June 29, 2022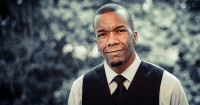 Literary Hub: What time of day do you write?
Jason Mott: I write first thing in the morning. I get up at 5:30 am and head straight to the computer because I've found that the best time to write is when the rest of the world is sleeping. There are just fewer distractions and interruptions first thing in the morning.
LH: How do you tackle writer's block?
JM: I write. I have a theory that writers block isn't real. In my opinion, writers block is simply the fear of writing bad. So, on those tough days, I just go ahead and write badly. Eventually, my brain always figures out what it wants to say.
To read the full article on lithub.com, click here