Jacqueline Wilson's guide to getting started writing children's books
stylist.co.uk – Monday April 5, 2021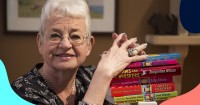 Children may have a world of technology at their feet nowadays and they countless ways to find entertainment online – but they are still reading. In fact, they are using many technological resources to do so. Research by the Publisher's Association found that sales of digital children's books in the UK rose by 50% in 2020 and a survey of 58,346 children undertaken by the National Literacy Trust found that more than a quarter of children and young people said they were enjoying reading more because of lockdown.
So, if you have always wanted to write for children, now is as good a time as any to start – and Jacqueline Wilson would agree. Although she wrote her first book at the age of nine in 1954, she has now written 112 novels for children and her most recent novel, The Runaway Girls, was released only last month. "I cannot imagine not having a book in my mind all the time," Jacqueline says. "It would feel so peculiar and empty."
Jacqueline has sold over 40 million books in the UK and her most well-known novel, The Story of Tracy Beaker, has inspired three spin-off series on CBBC since its publication 30 years ago.
It's safe to say, then, that Jacqueline Wilson knows a thing or two about writing children's books and she has some advice for aspiring children's authors – from how to structure a novel to how to get a publisher, to dealing with complex issues in a way that is accessible to children. Here, she give Stylist's Curiosity Academy the inside track on getting going.
To read the full article on stylist.co.uk, click here