Is the ebook a dead format?
thebookseller.com – Monday July 24, 2017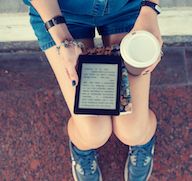 Nowadays, the ebook has a reputation for technological conservatism - so it is easy to forget that there was significant anticipation for the Kindle's arrival ten years ago.
In a 2009 editorial, The Bookseller declared the device was "a giant leap for all". The Kindle was frequently compared to the iPod's transformative effect on the music industry. No wonder - the ebook format promised several advantages. Users could adjust typographic settings for improved accessibility; there was an increased level of portability; and the move to digital distribution promised the ability to purchase publishers' extensive back catalogues.
But despite the early promise of the ebook, many are questioning whether it has lived up to these expectations. In recent years, the ebook has faced significant backlash amid reports of declining sales in trade publishing. The Publishing Association Yearbook 2016 noted a 17% slump in the sale of consumer ebooks while physical book revenue increased by 8%. Over the last couple of years, audiobooks have replaced ebooks as digital publishing's critical darling on the back of a rapid increase in revenue. In this climate, several commentators have asked "how ebooks lost their shine."
To read the full article on thebookseller.com, click here