Is the Internet Making Writing Better?
newyorker.com – Friday July 26, 2019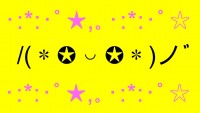 A common refrain from writers on Twitter is that writing is hard. Often, this insight is accompanied by the rueful observation that tweeting is easy. This is, of course, the difference between informal and formal expression, between language that serves as a loose and intuitive vehicle for thought and language into which one must wrestle one's thought like a parent forcing his squirming kid into a car seat. We've long had both formal and informal modes of speech. The first pours from political orators; the second winds around friends at a bar. But, as the linguist Gretchen McCulloch reveals in "Because Internet: Understanding the New Rules of Language," her effervescent study of how the digital world is transfiguring English, informal writing is relatively new. Most writing used to be regulated (or self-regulated); there were postcards and diary entries, but even those had standards. It's only with the rise of the Internet that a truly casual, willfully ephemeral prose has ascended—and become central to daily life.
McCulloch begins with a taxonomy; different cohorts of users have different linguistic tells. "Pre Internet People" (think grandparents) tend to avoid acronyms like "ttyl"—mostly because they don't know acronyms like "ttyl." "Semi Internet People," who logged on, in the late nineteen-nineties and early two-thousands, as adults, are more likely to type "LOL" than "lol"; they don't view digital conversation as the place for tonal subtlety. "Full Internet People," who grew up with AOL Instant Messenger and joined Facebook as young adults, are fluent in text-speak but perhaps less steeped in the grammar of newer platforms like Snapchat and WhatsApp. (McCulloch identifies a source of mutual misunderstanding between Full Internet People, who "infer emotional meaning" in symbols like the ellipsis, and Semi Internet People, who perceive such additions as straightforward bits of sentence structure.) Finally, there are "Post Internet People," who joined Facebook after, rather than before, their parents. They're the ones to watch: the digital avant-garde.
To read the full article on newyorker.com, click here