Is 'fiction novel' the 'pin number' of books?
news.yahoo.com – Tuesday December 14, 2021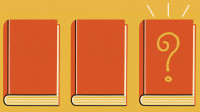 "It's a fiction novel."
When you hear that, does it go right by? Or do you think: "Did you, now? Did you drink some wet water?"
Not everyone has an opinion on "fiction novel," but those who do tend to have strong ones. Benjamin Dreyer, author of Dreyer's English and copy chief of Random House, calls the term "appalling." A novel, as he explains, is by definition a work of fiction. And yet, "[l]ately one encounters people referring to any full-length book, even a work of nonfiction, as a novel," Dreyer observes. "That has to stop."
He's not alone in the opinion. As author Casey McCormick discovered, among literary agents, "'fiction novel' is considered an automatic 'you shouldn't be querying if you don't know why this is wrong' thing." It shows you're clueless about something that is considered core knowledge: Novels have been fiction by definition for more than three centuries, since authors like Daniel Defoe first started writing long, coherent, fictional prose narratives.
To read the full article on news.yahoo.com, click here